Back
New solution for Fliegel Textilservice Leipzig
WSP Systems has carried out a variety of projects at Fliegel Textilservice in Leipzig, Germany in recent years. For over 27 years, Fliegel Textilservice has been successfully supplying the upscale German hotel industry. 1,000 employees at seven locations ensure that laundry is always fresh and meets the highest quality standards
Our WinWash control system already controls various systems at Fliegel Textilservice e.g. the sorting- and bagrail system on the soiled side, tunnel washers, dryers, and the conveyor belts on the clean side. In 2018 and 2019, Fliegel Textilservice developed a plan to further automate laundry processing for the clean side in close cooperation with WSP. The focus of this project was to automate the transport of terry towels from the dryers to the towel folders. In the first place to replace the manual transport with trolleys by automatic delivery of the laundry to the machines, but at the same time the laundry can be processed much more ergonomically by the employees. Nowadays, this is more and more an important point in order to be able to acquire enough and good qualified employees to work in the laundry.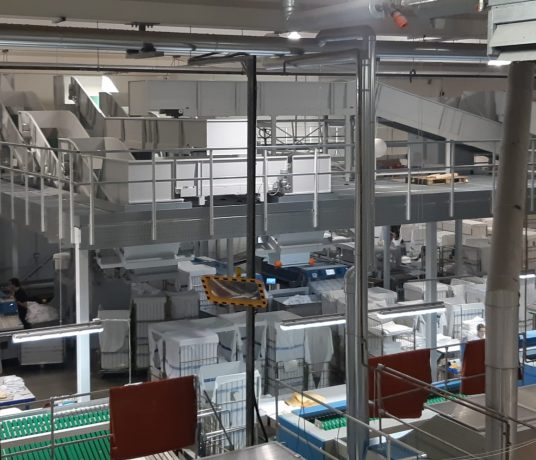 WSP installed this project on site in the first quarter of 2020. Several conveyor belts now automatically transport the laundry in the right order to the towel folders on the other side of the building. The solution is not only used as a transport solution, but also as a buffer to compensate for fluctuations in production. In addition, a smart interface is provided to the Kannegiesser towel folders. This makes it possible, depending on the customer to be processed, to switch the folding program on the folding machines automatically. This saves time at customer changes, and at the same time increases quality by avoiding human mistakes when choosing a program.
With this new solution, Fliegel Textilservice in Leipzig is in control over the entire process from incoming dirty laundry to outgoing laundry on the expedition side. All controlled and integrated with our intelligent WinWash software solution. Together with this customer, we were able to deliver a successful automation project!