Back
Extension of the bag rail system at Wäscherei Böhm GmbH in Apolda, Germany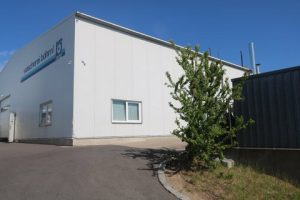 For us at WSP, it is important to support our customers in developing and furnishing their facilities for the future. At Wäscherei Böhm GmbH in Apolda, Germany we look forwarding to doing this once again. In February, we will expand the bag rail system (soiled section) at the company in Central Germany with additional buffer capacity and will establish an additional connection to a new laundry line.

With this extension of the bag rail system and extra connection to a new wash tunnel, we are exactly in line with what the customer has in mind. For this project, we will join forces with Kannegießer for the delivery of a new wash tunnel.

We have previously worked with Wäscherei Böhm GmbH. In 2016, we installed a sorting station and a bag rail system soiled section, thereby automating the loading of the wash tunnel and the washer-extractors. We value our long term work relationship with Wäscherei Böhm GmbH and are happy to work together to offer the perfect solution to further optimize their laundry.